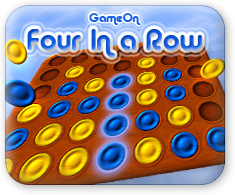 Requirements:
• Compatible with iPhone, iPod and iPad
• Requires iPhone OS 3.0
Four In a Row Popular Game!
Enjoy a challenging game of Four In a Row - now for your iPhone and iPod touch!

Play against another human or play against the computer at any of seven difficulty levels - beginners and experts alike will enjoy a fun challenge!



Features
High quality graphics and sound effects
Play against another human or the computer
7 different difficulty levels for beginners and experts alike
Enjoy challenging contests
Auto saves game progress
Unlimited undo and many great game settings
The rules of Four in a Row are simple - just place 4 tokens of your own color in a row (either vertically, horizontally, or diagonally) and you win! Easy to play, but surprisingly challenging and fun!
Fun fact: Up to 5.8 million moves are carefully analyzed and scored for each computer move!