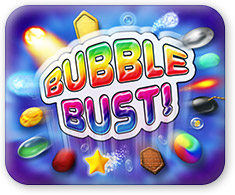 Requirements:
• Compatible with iPhone, iPod and iPad
• Requires iPhone OS 3.0+
Requirements:
• Compatible with Android devices
• Requires Android 2.2+
Bubble Bust!
Now available on Google Play!
Bubble Bust! is an amazing bubble-shooter game featuring addictive gameplay and tons of exciting new bubbles and power ups!

Your goal is to clear the marbles and bust the hidden key bubble. It's simple, yet amazingly fun and challenging!
Now with Game Center and
35 Awesome Achievements!
Features
290 levels of serious bubble-popping fun
Exciting new bubbles and power ups
Super sharp HD graphics
Game Center Leaderboards (iOS)
35 Awesome Achievements
Breathtaking visual effects
Realistic game physics
Captivating arcade inspired music
Accurate controls, with two ways to shoot
Global high scores
Three star ranking system
Tracks today's and personal records
Excellent replay value
and much much more...

Bubble Bust! HD screenshot